SUSTAINABLE
NATURE EXPERIENCES
AND NATURE ACCOMODATION
IN LAKE SAIMAA
Uhkua provides guided nature tours in Saimaa area, both on water and on land. With our open canoes and little fishing boat we can take you to explore Lake Saimaa from early spring to late autumn. Summer and autumn are also perfect seasons to forage berries and mushrooms during our forest walks. In wintertime we arrange snowshoeing trips to icy lake and frosty forests. 
If you want to go explore nature on your own, we rent canoes, rowing boat, tent, hammocks and other camping equipment to make it easier. With the rental we can give you tips where to go and what to see. 
There are many beautiful places such as old canals, top of the hills with great views and routes worth experiencing nearby. Uhkua is also Saimaa Geopark partner and knows the stories of hidden treasures of Lake Saimaa, for example Astuvansalmi rock paintings. They are easily reached by canoe, boat or by foot from our location.
More information about Astuvansalmi and Geopark here: www.visitmikkeli.fi/en-astuva | www.saimaageopark.fi/en/home/
Our services include guided tour packages of various levels, and custom tours are tailored according to the skill and wishes of the group. We also make a safety plan for all our trips according to the route, activity and group profile. All the tours will be done under the guidance of a trained professional. Often we eat in the nature too, weather it is a calm coffee break by open fire or more comprehensive meal in the nature.
Here you can find our nature experiences: NATURE EXPERIENCES
FOOD EXPERIENCES IN NATURE AND SEASONAL FINNISH FOOD 
In addition to the food for the eyes and peace for the soul offered by nature, we nourish our customers with products from the local nature and farms. 
We organize seasonal meals both in nature and in our old log house for small groups of 8 to 12 people. Larger groups are negotiable. 
In the summer, we will take you to the island location on our boat to enjoy the wild food dinner. The food is prepared over an open fire on the spot and you have also time for a short walk in the forest or on the cliffs by the lake. If you are lucky you might even see Saimaa ringed seal on this trip. In February, it's time for burbot-dinners. Before the dinner we go snowshoeing on the ice checking the traps and you'll see how fish ends to our dinner table. In autumn, treasures of forests; berries and mushrooms are at their best. Vegetables and roots are fresh from the harvest and all this ends up on the plates at the harvest dinner. Before dinner we whet our appetite with mushroom excursion to the nearby forest. In Christmas time we serve dinners in our atmospheric old house. You can also try a traditional Finnish sauna with a swim in the lake if you dare. 
Our food mission is to offer people handmade wild food from the lake, forest and land, always near and sustainably. We catch the fish ourselves with ringed seal-safe gear and grow large part of the vegetables we use by ourselves. Berries, mushrooms and wild herbs are picked by hand and used fresh or preserved in many ways. Our little duck flock offer the eggs. In addition, we use high-quality ingredients from local and small producers as much as possible. 
Here you can find our seasonal food experiences: SEASONAL FOOD EXPERIENCES
NATURE ACCOMODATION FLOATING ON A LAKE
Unique and ecological accommodation in the peace of nature. Get a good night's sleep on Uhkua's floating raft, take a dip into refreshing Saimaa and try our floating sauna or old log sauna in the lakeside. A close to nature and simple but overwhelmingly comfortable accommodation experience creates an opportunity to disconnect from everyday life and let nature treat you in many ways. You can also order food baskets full of local and homemade delicacies to the raft. 
Rafts are built from the wood of the spruce fence that fell in a storm in 2010. The finishing and decoration is done using recycled materials, surplus and recycled goods. New purchases have been made as ecologically as possible.
Here you can find our Welcome book in English: WELCOME BOOK_EN
In Uhkua, things are done casually and with joy, but the well-being of nature is taken seriously. 
It is very important to us that our operations take place respecting nature and making sustainable use of it. Minimizing excess consumption and damage to the environment is a matter of course. In our all actions, we strive to secure the preservation of Saimaa's unique lake nature for future generations as well.
Ask more about the accommodation and ready or tailored trips and we will tell you what we can offer just for you or your group.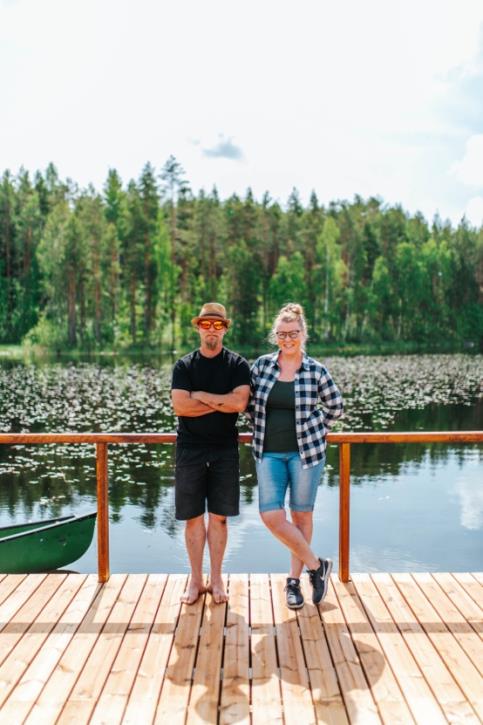 Asta – owner and entrepreneur of Uhkua
Ilkka – fisherman and chef behind our delicious foods
We both love and cherish the mother earth wherever we go. You are most welcome to join us to explore the finnish nature, traditions and local food. We hope to give you a memorable experience in nature that leaves an imprint of Saimaa forever in your hearts.
GENUINE – ROOTED – APPROACHABLE – RESPONSIBLE
'Your memory maker in Lake Saimaa'